UPCOMING EVENTS
| | |
| --- | --- |
| Time : | 6:30 pm |
| Venue : | CSOI,Auditorium, Chanakyapuri,ND |
| Contact No : | +91-9868451318 |
Annual Program 2016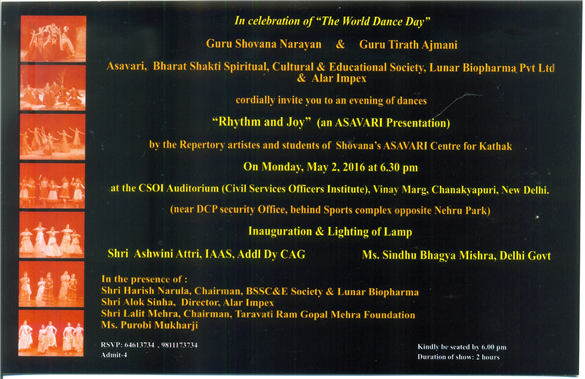 | | |
| --- | --- |
| Time : | 06:00 PM |
| Venue : | Ravindra Bhawan |
| Contact No : | +91-9811173734 |
Emptiness is not separate from form, form is not separate from emptines; Whatever is form is emptiness, whatever is emptiness is form" (Prajnaparamita Sutra) Emptying oneself of ego, fear of pain, illness, old age and death by implicit acceptance of suffering ('dukhasatya') will lead to understanding the cause of suffering ('samudayasatya'). Such an understanding will help in cessation of suffering ('nirodhasatya') that in turn will lead to a luminous mind with consequent attainment of state of inner harmony and 'ananda' (bliss). This is the message essayed by both Buddhism and Hinduism.

The message conveyed by "Shunyata" is potent and the need of the hour as each one of us is facing crisis – both internal and external. Prey to human emotions and fears ranging from fear of pain, illness, old age and death and importantly, non-acceptance of suffering that come with life itself, leads to ego, anger, hunger for power and irrational actions – all which contribute to an imbalance in one's individual personality and disharmony with the surrounding environment. Such fears are not new. Sakyamuni Gautam Buddha went through a churning process that led to his enlightenment and which showed the light on each individual's personal journey.

With the guiding principle of 'harmony of harmonies', the concept behind "Shunyata" is to explore ideas that are inherent in Buddhism, depicted through an amalgamation of dance traditions: The over 2500 year old Kathak art form of Northern India that exudes the fragrance and resonates the performing arts ethos of the era of Buddha, Amrapali and Salvati of Vaishali and Magadh and the ritual Arts of Vajrayana Buddhism. This is being done by exploring certain well known episodes from the life of Buddha such as Kisa and the Mustard Seeds and of Sujata and Milk Rice and the experience of King Ashoka who played an important role in spreading Buddhist ideas from India to other parts of the world.

"Shunyata" is essentially the coming together of two ancient traditions, both of which were born in India. At the same time, both will be presented by those who have spent their lives upholding the traditions – Padmashri Shovanaji on the one hand, who has spent her life bringing Kathak to people; and the monks of Palpung Sherabling Monastic Seat, on the other, who have played an important role in preserving the best of Vajrayana Buddhism under the guidance of Guru Vajradhara Chamgon the 12th Kenting Tai Situpa, who has faithfully and relentlessly advocated the message of Lord Buddha namely the path of benevolent activism through inter-faith dialogue. The monks of Palpung Sherabling Monastic Seat are also the only Buddhist monks in the world to have been awarded the Grammy for their music.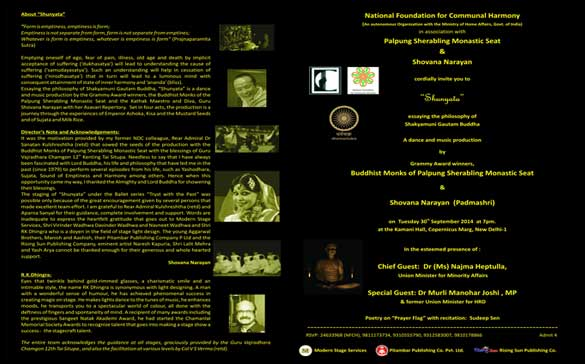 Work shop of Indian Classical Dance
| | |
| --- | --- |
| Time : | 18.00 |
| Venue : | Riga |
| Contact No : | +91-9811173734 |
Abhinaya Master Class
| | |
| --- | --- |
| Time : | 6pm |
| Venue : | Meghdoot theatra111,Rabindra Bhawan,ND |
| Contact No : | +91-9868451318 |
"Vividhmat: Perspectives"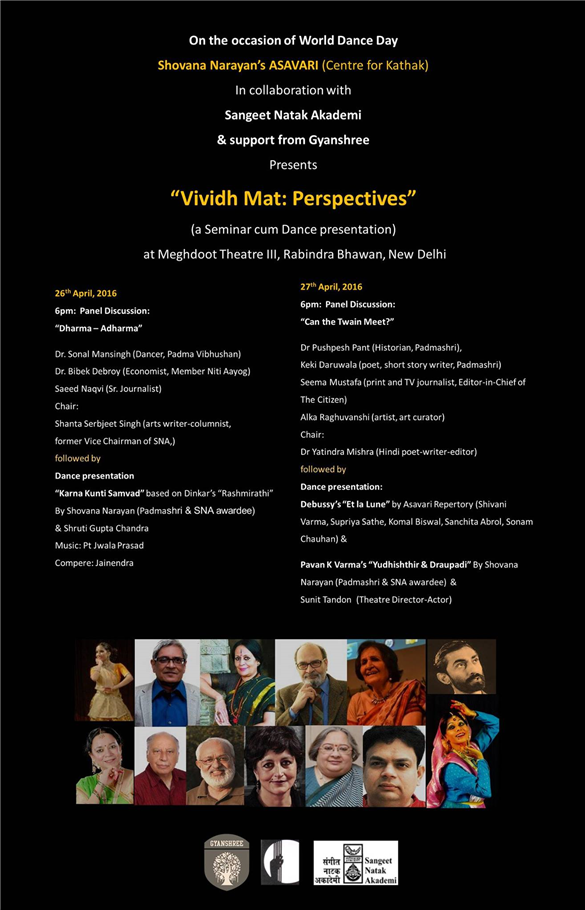 | | |
| --- | --- |
| Time : | 4 PM |
| Venue : | Smith center at Oh lone college 43600 Mission BLVD Fremont CA 94539 |
| Contact No : | +91-5104493679 |
Rhythm and Joy
-An evening of Kathak with Padmashri Kathak Guru Shovana Narayan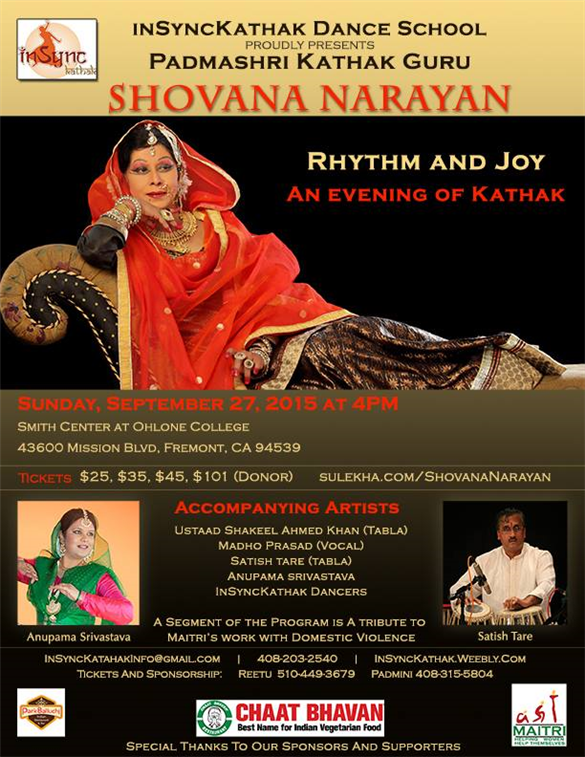 Copyright©shovananarayan.in | All Rights Reserved.
Visitor Counter :